4 days in Andalucia! Sevilla, Granada, Málaga and Córdoba!
Andalucía
Andalucia, the second biggest autonomous community of Spain, is waiting for us with open arms! A land of sunshine, a place of tradition and passion, an extraordinary destiny woven between the shores of Africa and America… Andalucía was conquered by the Arabs at the beginning of the 8th century, and it is to them that it owes its architectural treasure and its name.
During 4 days, we will explore wonderful Andalucía, a region that has a lot to offer, famous for its past that draws from the sources of the Orient. We will have the chance to discover and visit 4 of the most beautiful cities in Spain, Cordóba, Sevilla, Malaga and Granada.
The Mezquita of Cordóba, the magnificent Plaza de España and the Royal Palace of the Alcazar in Sevilla, the beaches and the fortress Alcazaba of Malaga, and last but not least, the Alhambra of Granada… this is what you can expect if you travel with us!
Our Hotels in Granada and Sevilla
The hotels we select are carefully chosen so that you can relax and unwind while exploring the different cities. All hotels are taking strict safety measures regarding Covid-19 to ensure you have a safe and healthy trip. As they are all centrally located, guests can explore the city on foot or visit the many nearby restaurants.
In all our accommodations we have breakfast included, so you can start your day in the best way! Look at the photos:
In Granada, we have the Hotel Macia Condor 4 ****
In Seville, we have the Hotel Catalonia Hispalis 4 ****
Night from 21/04: Leaving from Valencia to Granada
We will leave around midnight. The meeting point is Avenida Aragon 31 (in front of Mestalla)
We arrive very early in the morning in Granada. There, we take a break for breakfast and then go to the most beautiful monument, the Alhambra (Skip-the-line entrance, if you book with us). At 14:00 PM we will check in at 4* Hotel (Macia condor). At 16:00 PM we have a guided tour (optional) if not, you can discover the city on your own.
Saturday 23/04 Málaga/Camininto del Rey/Mulhacen
On Saturday we have 3 options: discover Granada more / visit Málaga / go to Caminito del Rey or climb the highest peak in Spain (Peninsula) Mulhacén. We get up in the morning, whenever we want, have breakfast and choose an option. 1. Discover Granada more 2. Visit Malaga 3. Caminito del Rey 4. Mulhacén If you want Malaga / Caminito del Rey, we meet the bus at 11:00 and leave for Malaga. We arrive at 12:30 in the afternoon we have a guided tour (Optional)/ Caminito del rey (optional) and at 19:30 we return to Granada. If you want Mulhacen: We leave at 8:30 from hotel.
After breakfast we will go to Sevilla where we start an optional guided tour. Then we go to the 4* hotel (Catalonia). During the rest of the day we discovered the city and at night we will have dinner with Flamenco (optional).
Monday we get up whenever we want, we continue visiting the city of Seville until 12:30. At 12:30 we go to Córdoba. Upon arrival we eat and visit mosque (we have reserved tickets), a guided tour and at 18:00 we start returning to Valencia.
Granada
We will begin our journey in breathtaking Granada. Rich by its culture and history, it is marked by the influences of Moorish, Jewish, Roman, and Christian traditions… Its authentic barrios immerse you in an irresistible Andalusian atmosphere. The Alhambra of Granada, the most majestic Islamic monument in Europe, is a must-see and your efforts will be rewarded with a magnificent view from the Mirador San Nicolas.
Málaga
We will then head to Málaga, located on the Costa del Sol! 
The birthplace of Picasso, Málaga is also considered the cradle of cubic art. One of the oldest cities in the world, the city has, besides its beaches, its own fortress, the Alcazaba, located high up and from which you can admire the city of Malaga. The castle, the Picasso museum and the Archbishop's Palace are places not to be missed. After climbing the hill to the fortress, reward yourself in a typical tapas bar and then relax on one of Málaga's beautiful beaches.
Sevilla
After Málaga, we will go to Sevilla… the capital of Andalucía. You can explore its Moorish palaces, its trendy neighborhoods, and Andalusian gardens and enjoy its exquisite tapas. Sevilla is a mosaic of cultures and has 3 UNESCO World Heritage Sites. The must-see sites of the city are without a doubt the royal palace of the Alcazar, the Plaza de Espana, the cathedral (the largest gothic building in the world), and its famous Giralda. Did you know that Alcazar was the filming place for the world-famous TV series Game of Thrones?… you will be amazed, for sure! 
Córdoba
And last but not least… our trip will end in another famous city of Andalucía, Córdoba! How can we not pass by Córdoba when we go to Andalucía? The city of Córdoba, influenced by the occupation of several kingdoms throughout history. Córdoba opens the doors of its famous mosque-cathedral and its old Jewish quarter where you will lose yourself with delight.
Famous for the Mezquita of Córdoba, a Unesco World Heritage Site, this impressive mosque is worth a visit and is a must-see in the city. It is the most important monument of the Islamic West and you will be fascinated by it. And what is more, the Roman bridge of Córdoba was also the filming place of Game of Thrones (season 5)! 
Optional Hiking activities (Caminito del Rey & Hiking Mulhacen)
CAMINITO DEL REY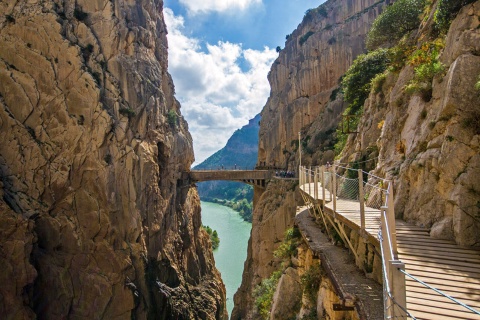 Before 2015, it used to be called "The Most Dangerous Walk in the World", but now it is one of the safest hikes. The wooden footpath suspended to the cliffs is, however, not suitable for people with vertigo since it is 700 meters above the river
In Spain, Pico Mulhacén (3479 meters) is the highest peak in the Peninsula, and the second-highest in the whole country (the highest is in Canary Islands – Teide 3715 meters). Located in Sierra Nevada Natural Park with beautiful landscapes and awe-inspiring views where snow can still be found in June. Making new friends in nature is a great way to have fun together and make memories that can last a lifetime.
IF YOU WOULD LIKE TO RESERVE THOSE OPTIONAL ACTIVITIES, GO TO THE RESERVE SECTION!
If this description of our next trip has made you dream and travel a little bit, then don't hesitate to join us and live your Erasmus to the fullest and brag about having seen these four treasures that Andalusia has to offer.
Optional activities Alhambra/Mosque /Caminito del Rey
           Reserve it here (Only for people who has reserved Andalucia ticket with us)
Meeting point: AVENIDA ARAGON 31, VALENCIA 46010
Important & Cancellation policy
Cancellation policy: If you cannot join the trip, the following conditions apply: Until Monday (20:00): 100% devolución. (5 days before) Until Tuesday (20:00): 80% devolución. (4 days before) Until Wednesday (20:00): 70% Devolución (3 days before) Until Thursday (20:00): 50% Devolución. (2 days before) After Thursday, No devolución (1 day before) Special Coronavirus Protocol. If you feel bad: Fever, cough or Respirate problem , Please don't come at the meeting point. If you show us a a valid paper proof and we will return you in form of voucher. Same apply in case of Emergency(illness, injury or force majeure) These devolution doesn't include the service fee. Important info: We will always stay as a group, but if you want to explore on your own, it is possible. You will need to inform one of the organisers and be on time at the meeting places on the time of departures. The weather is going to be good on the day of the trip. In case of bad weather, the Trip will be postponed/ cancelled or extra precautions will be taken. (In case you cannot join due to cancelation or postponement of the date, your money will be returned to you). For every trip, there is always a minimum and a maximum number of participants.
Todos nuestro viajes están organizado por agencia de viaje Wexcursion, con numero de licencia. CV-m-1881-V
All our trips are organised by Travel agency, Wexcursion, under licence number CV-m-1881-V.